21. This Is Ska Festival vom 2017-06-22 bis 2017-06-24
This Is Ska Festival Rosslau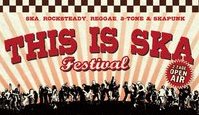 Die Tornados, Rudeboy Soundsystem, Sentilo Sono, The Chancers, Los Placebos, Yellow Umbrella, The Movement, Talco, The Pressure Tenants, The Busters, K-Mob, Fuzzy Vox, Masons Arms, The Skatalites, The Hacklers, Cala Cora Barwinkov, Beatbahnhof, 8°6 Crew, Men Of North Country, Jaya The Cat, Stranger Cole, Doreen Shaffer, The Steadytones, The Selecter, Judge Dread Memorial, Joe Scholes, Gasmac Gilmore, The Surface Noise, The Liptones, The Courettes, Johnny Reggae Rub Foundation,
Bildergallerien der Veranstaltung
Zeige Ergebnisse 1-3 von 25.
8°6 Crew (F) 21. This Is Ska Festival - Wasserburg, Rosslau 24. Juni 2017
Datum: 2017-06-24
Künstler: The 8°6 Crew (F)
8°6 CREW (F) Eine der legendärsten Bands Frankreichs ist zurück im Live-Zirkus. Nach zwischenzeitlicher Trennung und langer Pause ist die Band aus Paris wiede...
Beat Bahnhof (J) 21. This Is Ska Festival - Wasserburg, Rosslau 24. Juni 2017
Datum: 2017-06-24
Künstler: Beat Bahnhof (J)
BEAT BAHNHOF (J) バイオグラフィー 2012年結成 東京生まれのスカバンド 「ビートバンホフ」トラディショナル・スカ、ツー
Cala Gora Barwinkov (PL) 21. This Is Ska Festival - Wasserburg, Rosslau 24.06.2017
Datum: 2017-06-24
Künstler: Cala Gora Barwinkov (PL)
CALA CORA BARWINKV (PL) . Bildergallerie Cala Gora Barwinkov (PL) 21. This Is Ska Festival - Wasserburg, Rosslau 24.06.2017 des Künstlers Cala Gora Barwinkov (PL) vom 2017-06-24
Diese Veranstaltungen könnten Sie auch interessieren