27. Summer Jam Festival - Fühlinger See Köln vom 2012-07-06 bis 2012-07-08
Summer Jam Festival Köln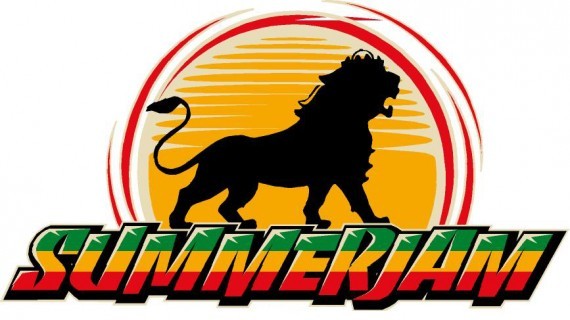 RUNNING ORDER !!!!

'Together As One' ist das Motto des diesjährigen Festivals, das zum 27. Mal vom 6. - 8. Juli in Köln stattfindet.
Seit sich Reggae in den 70er Jahren als eigenständige Musikrichtung etablieren konnte, wurde diese ursprünglich karibische Musik im Laufe der Jahrzehnte vielfältig weiterentwickelt.
Heute gibt es neben den Bands aus der Gründerzeit viele junge Musiker, die alle Variationen der populären Musik in ihre Produktionen einfliessen lassen und so für eine ständige Aktualisierung sorgen.
Wir wollen mit dem breiten musikalischen Spektrums diese Entwicklung darstellen und zugleich ein gemeinschaftliches Festivalerlebnis schaffen, das unserem Anspruch und unserer fast 30 jährigen Historie gerecht wird: One Blood, One Love, One Destiny - Together As One.

ARTIST 2012


> SEAN PAUL > BURNING SPEAR & The Young Lions > STEPHEN MARLEY > ALBOROSIE & Shengen Clan
> AMADOU & MARIAM > ASSASSIN > BERLIN BOOM ORCHESTRA > BLITZ THE AMBASSADOR > BOMBA ESTEREO > CHRISTOPHER MARTIN > COLLIE BUDDZ & New Kingston Band > DANAKIL > DREADZONE > FLO MEGA & The Ruffcats > GROUNDATION > HOLLIE COOK > IRIE RÉVOLTÉS > J. BOOG > JAHCOUSTIX > JAMARAM > LADI6 > LORD KOSSITY > MARSIMOTO > MAX HERRE & Freunde > MIDNITE > MILLION STYLEZ > NATTY > NNEKA > PRINZ PI & Band > PROTOJE > RAF 3.0 > RAGGABUND & The Dubby Conquerors > SEBASTIAN STURM & Exile Airline > SKARRA MUCCI > SOJA > TIKEN JAH FAKOLY > U-ROY ................and many, many more to be announced soon!
TICKETS
FESTIVAL-START
Ab Donnerstag, den 05. Juli, 09.00 Uhr sind die Park- und Campingflächen geöffnet. Vorab-Camper zahlen ca. 10,- Euro pro Person und Tag. Es werden zusätzliche Campingareale bereitgestellt, sodass für alle Festivalbesucher ausreichend Campingflächen am Fühlinger See zur Verfügung stehen - auch für später Anreisende.
HINWEIS ZU DEN PARKMÖGLICHKEITEN
Wir werden für das Festival ausreichend Parkflächen zur Verfügung stellen.
Bitte folgt unbedingt der Parkplatz-Beschilderung, die euch auf dem schnellsten Weg zum Parkplatz führt.
Parkgebühren betragen für das Festivalwochenende Euro 10.- (nur Sonntag Euro 5.-).
Gäste, die den Parkplatz während der Festivaltage verlassen und wieder befahren möchten, melden dies beim Parkplatz- Personal und entrichten einmalig Euro 20.- und erhalten einen Mehrfach-Parkausweis.

SUMMERJAM TIPP
Die Kölner Abschleppdienste kassieren ca. Euro 150,- je Auto. Nutzt nur die ausgewiesenen Parkflächen und bildet Fahrgemeinschaften.
---
TICKET KONTROLLE




Zugang zum Campinggelände und zur Festival-Insel ist nur mit gültigem Ticket erlaubt. Inhaber gefälschter Karten erhalten keinen Zutritt zum Gelände und müssen mit polizeilichen Nachforschungen rechnen. Auf dem P2 errichten wir wieder unsere große Service-Station. Hier könnt ihr ab Donnerstag eure Tickets in gültige Festivalbändchen tauschen. An den Einlassbereichen werden keine Festivalbändchen ausgegeben!!!

SUMMERJAM TIPP
Das gesamte Camping- und Festivalgelände wird weiträumig eingezäunt. Besucher können das Gelände nur mit einer gültigen Karte betreten. Dies gilt sowohl für das Camping- als auch für das Festivalareal. Es werden keine Campingtickets ausgestellt!


Öffnungszeiten der Bänderausgabe
| | |
| --- | --- |
| Do. 05.07.12 | 09:30 - 24:00 Uhr |
| Fr. 06.07.12 | 09:30 - 24:00 Uhr |
| Sa. 07.07.12 | 10:00 - 22:00 Uhr |
| So. 08.07.12 | 10:00 - 16:00 Uhr |
Bildergallerien der Veranstaltung
Schlagwörter der Veranstaltung
Diese Veranstaltungen könnten Sie auch interessieren