The Senior Allstars in Dub (D) Dubliftment, Turmbühne Kassablanca, Jena 03. November 2011 - Senior Allstars, The (D)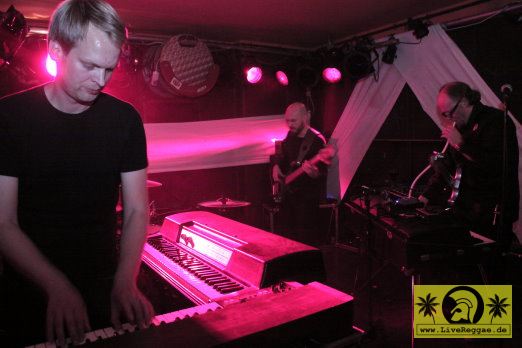 morgen geht´s los!
wir freuen uns, morgen den tourbus zu besteigen!
im gepäck:
- wegbeschreibungen zum kassablanca, zur groove station und zum dubpub (jena, dresden, berlin)
- unser neuer und alter bassist gudze (welcome you back home)
- songs von allen senior allstars-alben (nemo, red leaf, come around, hazard)
- plus einige klassiker des reggae (swing easy, auf zuruf auch rockfort rock o.ä.)
- das ganze natürlich "in dub" (unser motto des jahres)
- zu diesem zweck jede menge effektgeräte (nur einer darf kein space echo bedienen)
- lps, cds, shirts, aufkleber, buttons zu schnupperpreisen (weihnachten steht vor der tür)
- und, und, und
wer´s jetzt noch nicht geschnallt hat: es lohnt sich vorbeizukommen. wir freuen uns auf euch!
markus dassmann – gitarre, fender rhodes, melodica, dub fx
gudze – bass
thomas hoppe – schlagzeug, dub fx
arne piri – organ, wurlitzer piano
Diese Gallerien könnten Sie auch interessieren