The Senior Allstars (D) In Dub - 2. Freedom Sounds Festival, Gebäude 9, Köln - 02. Mai 2014 - Senior Allstars, The (D)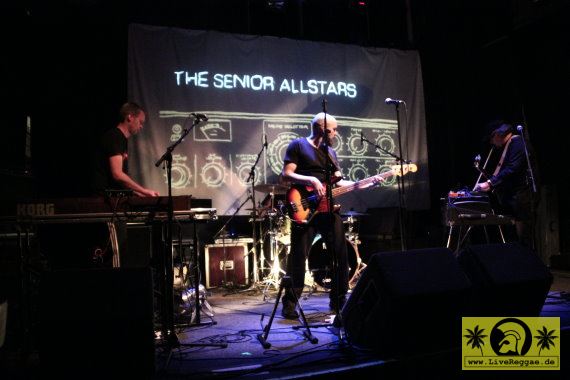 The band was founded by Dr Ring Ding in 1992. For ten years Dr Ring Ding & The Senior Allstars raised the bar on the European Reggae and Ska scene. They played with many legends, from Judge Dread to Doreen Shaffer, and released a number of highly acclaimed albums.
In 2002, the band and their lead singer parted ways, but have always remained good friends. Markus Dassmann, for example, currently plays the guitar for Dr Ring Ding Ska-Vaganza, which also means that he will make a very welcome return to the stage of our festival.
While Dr Ring Ding has since made his name in many different musical endeavours form Cocktail Jazz to Dancehall and back to Ska, the Senior Allstars have devoted themselves to exploring instrumental varieties of Jamaican music. With their latest two albums they have pursued the road to Dub, criss-crossed it with excursions into Jazz, while always keeping Ska in their hearts.
Be it in the studio or on the stage, the band likes to collectively improvise, meaning that each of the four musicians dubs himself while playing live. This has resulted in a unique sound and six albums so far. The seventh one, featuring guest appearances by Dr Ring Ding and King Django, will be presented live on stage at the Freedom Sounds festival for the first time. Their set is one of many highlights we are looking forward to!
Quelle: Freedom Sounds Festival

The Senior Allstars (D) In Dub - 2. Freedom Sounds Festival, Gebäude 9, Köln - 02. Mai 2014
The Senior Allstars (D) In Dub - 2. Freedom Sounds Festival, Gebäude 9, Köln - 02. Mai 2014

(c) www.LiveReggae.de / www.SubPixxx.de

Diese Gallerien könnten Sie auch interessieren