Feuerwerks Open-Air am 2012-06-25
Reduit Mainz Mainz Kastel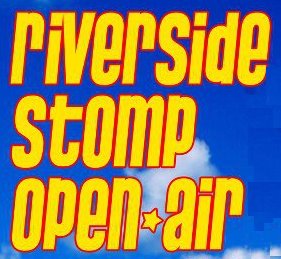 Feuerwerks Open-Air 2012

REDUIT, Open-Air Gelände, Mainz-Kastel

Montag, 25.6.2012 . Einlass: 19 Uhr, Start: 19.30 Uhr, Eintritt FREI!

Live:
The Talks (UK)
The G-Men (UK)
King Hammond and The Saloon Soldiers (UK/D)


Johannisnacht in Mainz:
Am Ende dieses Fests steht immer das Feuerwerk auf dem Rhein. Und seit vielen Jahren schon liefert die Reduit neben dem Blick auf dieses Spektakel mit einem Festival bei freiem Eintritt die Feuerwerksmusik dazu.

Über vier Stunden Liveprogramm, immer international besetzt – eine riesengroße Party am Rhein: das sind die Zutaten, mit denen schon seit vielen Jahren das Team von der Reduit eine große Publikumsgemeinde in die Festung lockt.
Von Anfang an haben die Veranstalter in der Reduit enge Kontakte nach England, der Heimat des 2Tone Ska gepflegt. Kein Wunder, das einmal ein Festival unter dem Motto "Full English" fällig war. In diesem Jahr steht deshalb Ska, Rock und Reggae von der insel auf dem Programm.

Aus dem Norden Londons kommen die Senkrechtstarter THE TALKS und ihr Markenzeichen ist Ska und krachender Rock mit steilem Anstieg der Fieberkurve.
Aus Darlington, in der Mitte Englands gelegen, kommt die Band THE G-MEN. Seit über 20 Jahren sorgen die Jungs für beste Tanzlaune mit knalligem 2Tone-Ska. Sie sind für durchgeknallte "stage antics" ebenso bekannt wie für eingängige Songs.

Nach dem Feuerwerk auf dem Rhein steuert der Abend dann auf das Finale zu.

Hierfür haben wir KING HAMMOND aus London gewinnen können. Zur Seite steht ihm die Band THE SALOON SOLDIERS. King Hammond ist einer der Aktivposten der Londoner Musikszene. Im jeweiligen Abstand von weniger als einem Jahr hat er seit 2009 Alben rausgebracht und sein letztes "Dancin in the garden of evil" ist neben seiner stilistischen Vielfalt ein echter Feiergarant.
Neben seiner Mitwirkung in Bands wie Bad Manners und zahlreichen anderen renommierten Skabands hat King Hammond immer wieder Soloprojekte vorangebracht und ist im Moment auf der Höhe der Schaffenskraft: "F**k art, let´s dance" lautet sein Appell und der sagt eigentlich schon alles.

Die Besucher erwartet ein furioses Partyprogramm bis Mitternacht.

Und wie jedes Jahr ist der Eintritt zu dieser rauschenden Sause am Rhein frei! Nichts wie hin in die Reduit!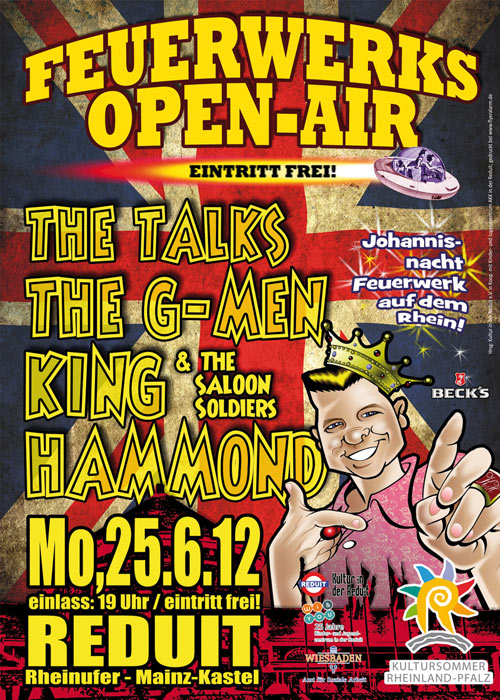 Bildergallerien der Veranstaltung
Zeige Ergebnisse 1-3 von 6.
The Talks (UK) Feuerwerk Open Air - Reduit, Mainz-Kastel 25. Juni 2012
Datum: 2012-06-25
Künstler: Talks, The (UK)
Patrick Pretorius - Vocals/Guitars/Sax Jody Moore - Vocals/Guitars/Keys Iain Allen - Bass Richard 'Titch' Lovelock - Drums featuring artists who also often appear w...
The G-Men (UK) Feuerwerks Open Air - Reduit, Mainz-Kastel 25. Juni 2012
Datum: 2012-06-25
Künstler: G-Men, The (UK)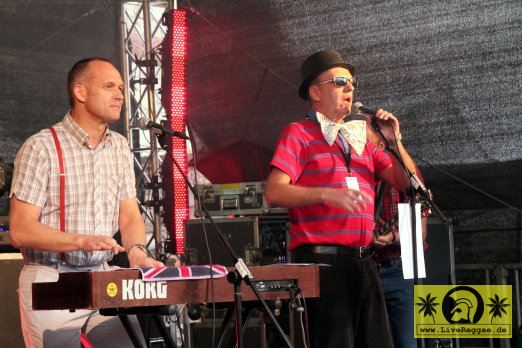 The G Men are a ska band from Northern England who were formed in 1989 in Darlington. The first band rehearsal took place at Chandos Street Recording Studio with...
The Saloon Soldiers (D) Feuerwerks Open Air - Reduit, Mainz-Kastel 25. Juni 2012
Datum: 2012-06-25
Künstler: Bobby Pins & The Saloon Soldiers (D)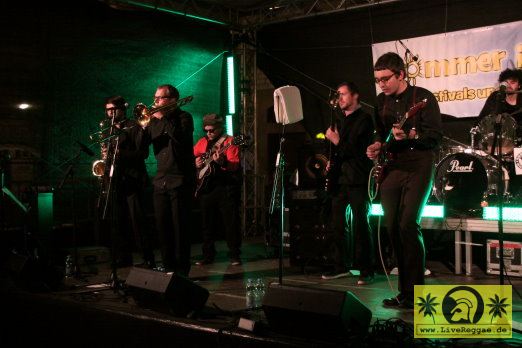 Bildergallerie The Saloon Soldiers (D) Feuerwerks Open Air - Reduit, Mainz-Kastel 25. Juni 2012 des Künstlers Bobby Pins & The Saloon Soldiers (D) vom 2012-06-25
Diese Veranstaltungen könnten Sie auch interessieren