23. Reggae Jam Festival, Bersenbrück vom 2017-07-28 bis 2017-07-30
Reggae Jam Festival Bersenbrück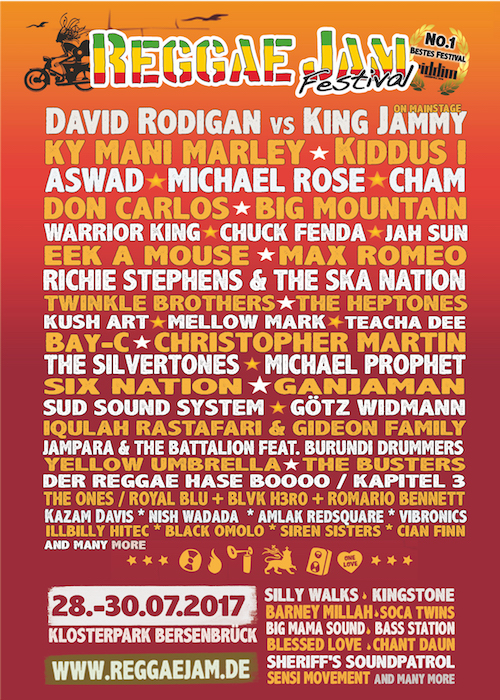 DAVID RODIGAN vs. KING JAMMY'S
Unter Zuhilfenahme jamaikanischer Hypespeak ließe sich beim 23ten REGGAE JAM eine wahrhaft ballistische Battle Royale ankündigen! Und in der Tat ist es ein Match zweier Giganten, wie es in Europa so noch nie stattgefunden hat. Der wohl ultimative Big People-Clash, der am 29 Juli auf der Hauptbühne eine Stunde nach Mitternacht angepfiffen wird: David Rodigan, Reggae-Ambassador, Sound-Killer, Gentleman Rude Bwoy und the hardest man fi dead gegen King Jammy's, jahrzehntelang Dancehall's dominantester Producer und als Sound System-Imperator beinahe schon qua Naturgesetz the last man standing! Ein Mann, der mehr Schlachten geschlagen und Trophäen abgeräumt hat als jeder andere noch aktive Soundman der jamaikanischen Musikgeschichte und sein Sound System – zumindest gefühlt! – schon vor Christi Geburt betrieb. Nun ja, den Reggae-Annalen nach zumindest seit 1962, dem Jahr der jamaikanischen Unabhängigkeit.

David "Ramjam" Rodigan und King Jammy's, der von Jam 2, seinem zweitjüngsten Sohn, unterstützt wird und ankündigte nicht nur Dub Plates aufzulegen, sondern auch DUB live zu mixen, sind seit unvordenklichen Zeiten Freunde und gegenseitige Bewunderer und der R.E.S.P.E.C.T. vor der Box des jeweils anderen, er ist unendlich tief. Einen echten Verlierer kann es bei einem Aufeinandertreffen auf dieser Ebene eigentlich nicht geben!
Bildergallerien der Veranstaltung
Zeige Ergebnisse 1-3 von 70.
Anthony B (Jam) and The House Of Riddim Band - 23. Reggae Jam Festival - Bersenbrück 30. Juli 2017
Datum: 2017-07-30
Künstler: Anthony B (Jam)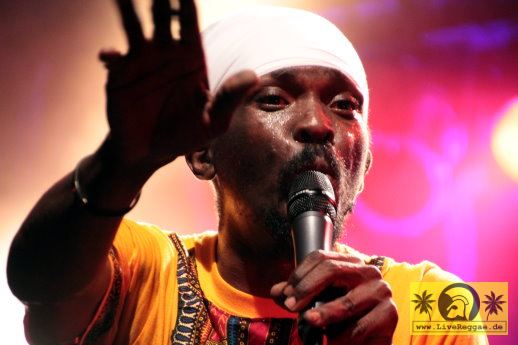 Bildergallerie Anthony B (Jam) and The House Of Riddim Band - 23. Reggae Jam Festival - Bersenbrück 30. Juli 2017 des Künstlers Anthony B (Jam) vom 2017-07-30
Aswad (UK) 23. Reggae Jam Festival - Bersenbrück 30. Juli 2017
Datum: 2017-07-30
Künstler: Aswad (UK)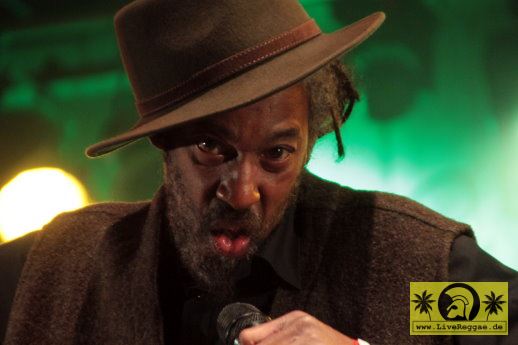 Bildergallerie Aswad (UK) 23. Reggae Jam Festival - Bersenbrück 30. Juli 2017 des Künstlers Aswad (UK) vom 2017-07-30
Bass Tea (D) Roots Plague Dub Camp - 23. Reggae Jam Festival - Bersenbrück 30. Juli 2017
Datum: 2017-08-30
Künstler: BassTea (D)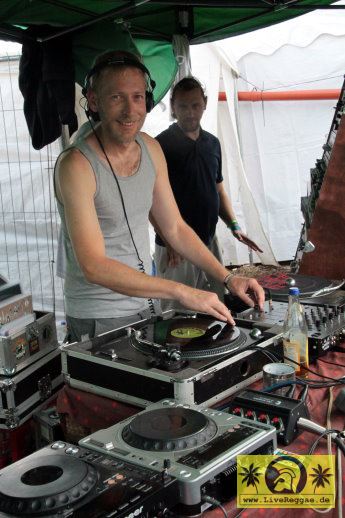 Bildergallerie Bass Tea (D) Roots Plague Dub Camp - 23. Reggae Jam Festival - Bersenbrück 30. Juli 2017 des Künstlers BassTea (D) vom 2017-08-30
Diese Veranstaltungen könnten Sie auch interessieren