Addis Pablo (Jam) and The Sons Of Dub 20. Reggae Jam Festival - Bersenbrück 01. August 2014 - Addis Pablo (Jam)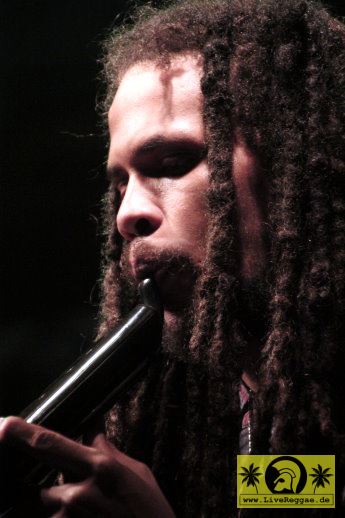 ADDIS PABLO (Jam) and The Sons Of Dub
Es besteht kein Zweifel, Addis ist die "Reinkarnation" der legendären, fast mythischen Reggae Legende Augustus Pablo.
Addis Pablo schrieb sich die schwierige Aufgabe auf die Brust, in die Fußstapfen des Vaters, mit diesem Talent, zu treten. Er ist nicht nur als Musiker, Produzent und Komponist, sondern auch als Melodicaspieler konkurrenzlos.
Addis ist als der perfekte Assistent im Lager des Gitarristen Earl 'Chinna' Smith "Inna Di Yard" bekannt.
Mit Addis Pablo präsentieren wir auf dem Reggae Jam 2014 - Sons of DUB, die Musik der neuen Generation der Rockers International.
An der Spitze der jamaikanischen neuen Rootsszene arbeitet Addis Pablo mit Größen wie Chronixx, Sizzla, Protoje und Kabaka Pyramid um nur einige zu nennen.
Wir freuen uns Addis Pablo & Sons of Dub im Showcase mit Earl 16 und Mafia & Fluxi auf dem 20. Reggae Jam begrüßen zu dürfen.

Quelle: Reggae Jam Festival

Alle Gallerien des Künstlers
Diese Gallerien könnten Sie auch interessieren