Reggae Jam Festival 2018 vom 2018-08-03 bis 2018-08-05
Reggae Jam Festival Bersenbrück
REGGAE JAM 2018

Tippa Irie, Fantan Mojah, G-Whizz, Queen Omega, The Mighty Diamonds, Derrick Morgan, I Wayne, Leroy Sibbles, Andrew Tosh, Skarra Mucci, Nature, Sevana, Mr. Vegas, Jah 9, Romain Virgo, Exco Levi, Capleton Skarra Mucci, Capleton, Cocoa Tea, Samory I, Klub Kartell, Ganjaman, Delle, Jahcoustix, Sebastian Sturm, Bitty McLean, Nkulee Dube, Konshens, Sly & Robbie, The New Kingston Band, Johnny Osbourne, Bunny General, The Clarendonians, Jah Mason, Leroy Horsemouth Wallace, Beenie Man, Macka B, Stylo-G, Michigan, Wickerman, The Wailling Souls, Papa Levy, Daddy Freddy, Starkey Banton, iLLBiLLY HiTEC, Longfingah, Kevin Isaacs, The House Of Riddim Band, The Dub Akom Band, Dawn Penn, Doreen Shaffer, Norma Fraser, The Hempolics, Markus Gad, Schwarzpaul, Silly Walks, Barney Millah, Blessed Love, Pow Pow Movement, Jugglerz, Bass Station, Sunfire Sound, Sensi Movement, Sheriff's Soundpatrol, Roots Plague Dubcamp, Kunterbunt ...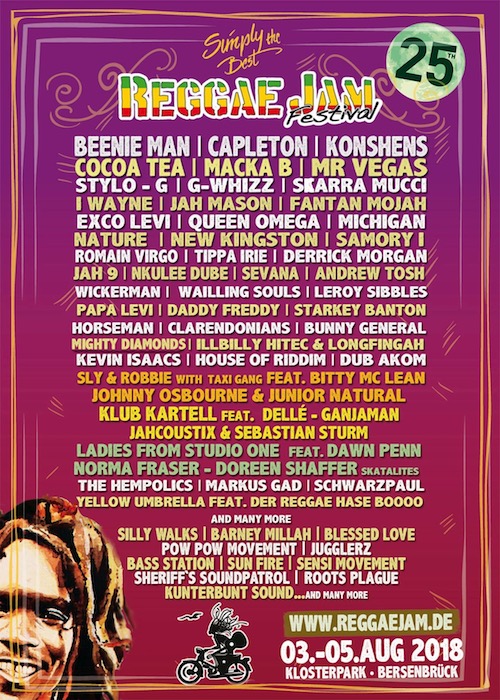 Das Reggae Jam Festival wird 25
Eigentlich lassen sich Stimmung und Atmosphäre beim Reggae Jam kaum in Worte fassen. Versuchte man es dennoch, dann vielleicht folgendermaßen: Das Reggae Jam, ein Festival zwischen zwei Extremen – Entschleunigung und Ekstase.
Verantwortlich für die Kategorisierung zwischen Entschleunigung und Ekstase sind einerseits der konsequent ausgelebter Reggae-Lifestyle – per se mehrere Gänge runterschaltend und sich ohne Hektik mit den positiven Dingen des Lebens beschäftigend. Raum und Zeit geben große wie kleine Besucher quasi beim Betreten des Festivals an der Garderobe ab. Zum anderen ist da das antreibende Dancehall-Genre. Eines der Standbeine des Festivals, bei dessen aufputschende Beats es unmöglich ist, die Füße still zu halten.
Ein Festival der kurzen und wunderschönen Wege
Komplettiert wird die Atmosphäre – zu deren Melange unzählige weitere Genres wie Dub, Ska und Verwandte gehören – von einer einzigartigen Kulisse. Mit Besucherzahlen zwischen 15.000 und 20.000 sind Veranstaltung und Areal noch übersichtlich und beschaulich, bieten jedoch genug gut gelauntes Festival-Publikum für eine dreitägige, ausgelassene Party. Obendrein handelt es sich beim Reggae Jam um ein Festival der relativ kurzen, vor allem aber wunderschönen Wege. Das Festival-Gelände mit zwei abwechselnd bespielten Bühnen inmitten des urig-idyllischen Bersenbrücker Klostergartens, grenzt sich vom Camping-Gelände durch das Flüsschen Hase ab. Das Gewässer dient je nach Wetterlage zur Abkühlung oder einfach als Parkplatz für Schlauch- und Ruderboote, deren Insassen den entspannten Klängen vom Wasser aus lauschen.
Dub-Camp, Riverside Disco und Dancehall-Tent
Entlang besagter Hase führt ein Waldweg durchs erfrischend kühle, saftige Grün. Zwischendrin arbeiten Künstler an Graffiti-Planen, andere genießen die schattige Ruhe. In die andere Richtung entlang des Flusses liegt das Dub-Camp, das an eine Art harmonisch-hölzernes Hippie Dorf erinnert. Zusammengezimmerte Tresen und Theken, künstlerische Installationen, eine Bühne, eine Tanzfläche, eine Wasserrutsche in die Hase, selbst eine Foto-Ausstellung gibt es hier. Auf dem Rückweg Richtung Festival-Gelände liegt am Bootshafen zunächst die kleine Riverside-Disco, die zum einen alten Sound-Haudegen wie Silly Walks und zum anderen jungen Sounds eine Plattform bietet.
Noch ein Stück weiter geben sich im Dancehall-Tent die ganze Nacht namenhafte Soundsystems die Mikros in die Hand und versorgen die nimmermüden Festivalisten bis zum Morgengrauen mit Beats und Bässen.
Zehnmal in Folge: "Bestes Festival Deutschlands"
Nachdem um 5 Uhr der offizielle Schlussakkord erklingt, lassen viele die Nacht bis zum Sonnenaufgang auf dem Camping-Gelände ausklingen. Diese Atmosphäre macht für viele Besucher die Einzigartigkeit des Festivals aus. Kein Wunder, dass das seit 1994 stattfindende Open Air Event im vergangenen Jahr zum nunmehr neunten Mal in Folge von den Lesern des Fachmagazins "Riddim" als Bestes Festival Deutschlands ausgezeichnet wurde. Endgültig zur Großfamilie wird das Festival jedoch erst durch die Besucher von nah und fern selbst. "Love, Peace and Harmony" klingt wie eine Phrase aus längst vergangener Zeit, scheint hier jedoch absolut greifbar. Derartig familiär, freundlich und entspannt geht es zu.
Diese Veranstaltungen könnten Sie auch interessieren