Bitty McLean (UK) with Sly and Robbies Taxigang - Reggae Jam Festival, Bersenbrück 05. August 2018 - Bitty McLean (UK)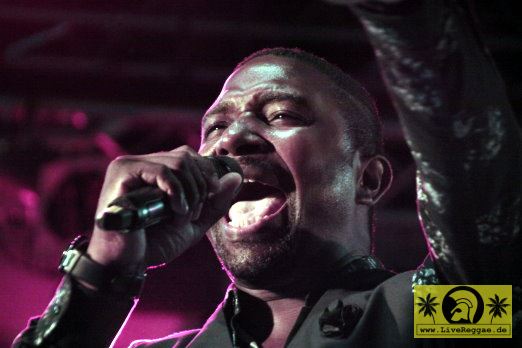 BITTY McLEAN (UK) with Sly and Robbies Taxigang

Bitty - a much loved talent with an astonishing voice and unnerving ability to pen a pop smash, McLean launched himself into the high end of the British charts with a string of top ten hits the early 90s. Born in 1972, Bitty's earliest memories were punctuated with the music he would hear courtesy of his father's sound system, where he started by singing over Jamaican Dub and Instrumental riddims.
Bitty McLean followed up with a major collaboration with the worlds' greatest rhythm section, Sly Dunbar and Robbie Shakespeare. The trio recorded "MOVIN' ON", a brand new studio album with Jamaica's finest musicians. Featuring the hits "Real Thing", "Lately" and "Tenderness", the album came out in 2009 to widespread critical acclaim, as the New York Times hailed "Movin' On" as the best Reggae album of that year.
Expect some hard rockers sounds as well as Bitty's trademark sweet voice…
Sly and Robbie are a prolific Jamaican rhythm section and production duo, associated primarily with the reggae genre. Drummer Sly Dunbar and bassist Robert Shakespeare teamed up in the mid-1970s after establishing themselves separately in Jamaica as professional musicians. Sly and Robbie are estimated to have played on or produced 200,000 recordings, many of them on their own label, Taxi Records.
Sly & Robbie have won several Grammy Awards since 1984, the first year Reggae got its own Grammy category. That year, they won with Black Uhuru. Since then, they have won a Grammy for best reggae album in 1998 with Friends and several others. They have also been nominated with No Doubt, for whom they produced two hit singles in 2001 (Hey Baby and Underneath it all).
Quelle: Reggae Jam Festival

Diese Gallerien könnten Sie auch interessieren