Tommy Tornado (NL) and The Clerks 2. Freedom Sounds Festival - Gebäude 9, Köln 03. Mai 2014 - Tommy Tornado (NL)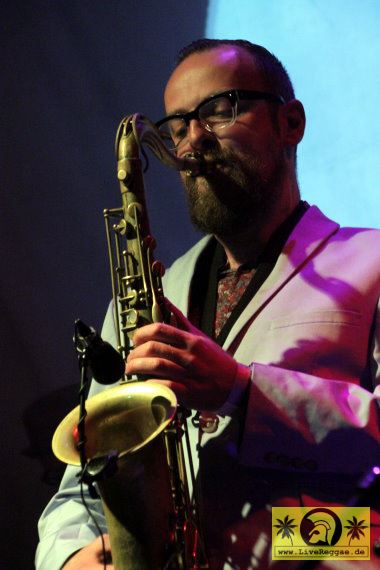 Mit Tommy Tornado präsentieren wir im Mai 2014 einen Muisker, der sich ebenso wenig wie unser Festival von strikten Genregrenzen einschränken lässt. Zu Hause ist der Niederländer ebenso im Jazz und Swing wie in allen Varianten swingender jamaikanischer Tanzmusik. Wir freuen uns ganz besonders darauf, dass er gemeinsam mit den Clerks die Fans des Freedom Sounds zum Tanzen bringen wird.
Der niederländische Ausnahmesaxofonist ist vielen bestens als langjähriges Mitglied von Rude Rich & The Highnotes bekannt. Sein musikalischer Horizont reicht aber viel weiter. Bereits 1997, mit 17 Jahren (!), gewann Tommy den Big Boss Jazz Award. Er betreibt zur Zeit nicht weniger als vier Bands: sein Jump Jazz-Projekt JZZZZZP, die Soulsnatchers, die Busquitos (Jazz/Jive/Swing) und das Thomas Streutgers/Nol Sicking Jazzkwartett.
Live und im Studio hat er neben den genannten Bands Alton Ellis, Derrick Morgan, Dave Barker, Rico Rodriguez, Winston Francis, Rotterdam Ska Jazz Foundation, die Toasters und die Heptones, aber auch Big Jay McNeely, Laura Vane & The Vipertones und vielen andere verstärkt. In den letzten drei Jahren hat Tommy Tornado zwei überragend gute und von der Kritik umjubelte Soloplatten, "Sunrise" und "Cool Down", mit diversen hochkarätigen Gästen eingespielt.
Beim Freedom Sounds Festival wird er erstmals live mit den Clerks auf der Bühne stehen. Gemeinsam werden sie altes und neues Material präsentieren. Da wächst zusammen, was zusammengehört. Wir sind sehr gespannt!
Quelle: Freedom Sounds Festival

Tommy Tornado and The Clerks 2. Freedom Sounds Festival - Köln 03. Mai 2014
Tommy Tornado and The Clerks 2. Freedom Sounds Festival - Köln 03. Mai 2014

(c) www.LiveReggae.de / www.SubPixxx.de
Alle Gallerien des Künstlers
Diese Gallerien könnten Sie auch interessieren